So Moving house as required the disassembly of the layout, And as a new layout wont happen instantly I thought I would make a little station scene that could be transported and this gives me an excuse to practice some scenic detail.
I've picked the name Danderhall as its the vague location of the new house but is in the area of Millerhill, which had a small goods and passenger station and Shawfair which has a modern station serving the borders line (also a search didn't turn up anyone else using it). That all said it is a totally fictional piece of work and is more to give something to fiddle with.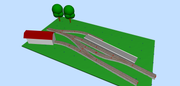 The track plan shows what will hopefully form a little station with engine shed and some ability to operate rather short trains. with a small fiddle yard built to the left hand side
Ideally if it works well it can then be dropped into a bigger layout without too much fuss.