During a discussion with BB yesterday the idea of a rockface using Woodland Scenics moulds with plaster of Paris came up and I thought it might prove an interesting treatment for one end of my layout. If nothing else it will cover up my poor attempt at painting sky and a treeline.
I have some Metcalfe retaining wall, a double and a single track tunnel portal and un unknown make single track tunnel that it would be good to use. The odd one out is slightly different in height and brick finish to the others. I also wanted to put a road around the double track that you can see at the top of this picture to enable vehicle access to the station which is off the bottom left hand corner of this picture.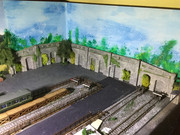 The idea was to utilise all three tunnel portals - with appropriate surgery so they fit - with the odd man out at the back and the other single Metcalfe tunnel - still to be made - being squeezed in to the left of the double one, as below. There would then be both tunnel portals of the same brick and height next to each other. The road would then go into the rockface via the single tunnels.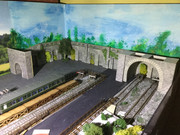 The retaining walls would be repositioned at the bottom of the rockface which will be above all of it! This picture shows the retaining wall right up to the double tunnel portal - this would be trimmed off to fit. In theory anyway.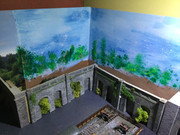 The board is 2' wide and the bit at the back comes out about 16".
What do my esteemed fellow forum members think of such a plan?
R-