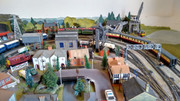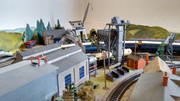 The top photo shows off the new models quite well. From left to right:
Hornby electricity pylon (one of the three in the kit - the others are rather randomly placed where I can squeeze them in).
The red brick house against the backscene is in fact a Dapol shop turned to the reverse - I've got already got a grey painted version of this kit on the layout with the shop front facing forward. I only placed it there because I couldn't see space anywhere else, but I think it looks very snug.
I've tried the Peco coaling tower on the other side of the engine sheds and am still in two minds about moving it back there or maybe somewhere else.
I'm pleased with the Dapol dockside crane in front of the Bay of Gdansk.
If you're thinking that the coaling tower looks like it's breaching basic health and safety rules, you're right. There's no safety rail around the platform on account of the fact that I ran out of glue and I'll have to wait until lockdown eases before I can buy some more. You probably can't see from the photos but the ladder is also missing for the same reason. That can also wait, given that the dockside crane kit doesn't actually have a ladder at all, so I don't know how the operator gets to the cab. I'm satisfied with the coal dust covered look of the coaling tower. This kit was originally bright brown - supposedly to look rusty - but I thought that was most unrealistic. I think that the rationale for manufacturing it in this colour was that it can be painted leaving small gaps for the rust colour to show through, but I wasn't keen when I tried it, so I put a bit more paint on.
Cheers, Ian Alan