Hi,
I'm looking to start a new layout, and I have a first draft of a track plan which I have based off of Burton Latimer's (Northamptonshire, Midland Railway, Midland Mainline) goods yard from the 1950s. I'd like to know more about the sort of operations and moves that might have taken place.
My question is, how would the various sidings have been used, and what would be some prototypical shunting moves?
Especially: how would the "Up Sidings" have been used? At one end they connect to the goods yard, and at the other, they become the branch line to an Iron Stone quarry. I initially thought they might have been used as a runaround loop for a loco bringing wagons from the quarry, but as they are labeled "Up sidings" in the original diagram, I imagine they had a more general use.
Era: 1950s/60s BR Late Crest
For the layout track plan, I have adapted Burton Latimer's track plan, making it only double track, rather than two double tracks (goods and passenger lines), I have also excluded the Weetabix Mills' tracks.
Layout proposed track plan.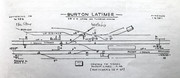 Diagram from 'British Railways Layout Plans of the 1950s' John Swift - Signalling Record Society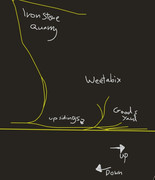 Wider view of Burton Latimer, showing the Iron Stone branch line. Screenshot from Rail Map Online. (Does not have the detail of the diagram.)
Thanks for any thoughts and ideas.