Certainly does Ted,

Many thanks.

Carl
---
Thank you Ted,
Nothing like I imagined.
Rob
---
Having just posted a query regarding electro points I thought I'd just add a quick update to show I'm still here.
With a big thrust on the electrics there isn't much progress to see. Focus is currently on the control panel; switches for the point motors and route indicators.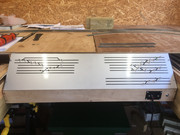 Once the electrics are done I might actually get something other than track on the layout!
---
Users browsing this forum: No registered users and 2 guests