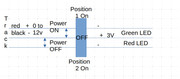 I wish to control the red and green LED's to show if a track is live. The track would be switched 'on' or 'off' via DPDT on-off-on latching switch.
The LEDs would be provided with a separate power feed to the track and would show Green if the switch is 'on' for Power to the track and Red if in the 'off' position for power to the track.
There would be a number of these. Does this wiring setup look correct and/or will it work?
Each switch would be connected to a piece of track between the bus and track, sometimes on the + side and sometimes on the - side (depending on the position I have already installed irj and insul-frog points.
The LED's would be fed in parallel to the switches.
Initially this will all be for analogue power. Eventually the locos will have DCC chips in so the power will be DCC. I accept that turning the power 'off' a track will isolate the loco but that is actually the intention.
I think I've described this correctly and I'm sure someone will tell me if I'm wrong!
Does all this seem feasible and possible?