In response to a number of similar posts, the chart below provides a quick lookup of recommended resistor values for a number of popular LEDs at a number of common power supply voltages.
The values represented below are based on standard recommended forward voltage (Vf ) for the LEDs shown in brackets alongside the colour and recommended forward current (If). Be aware that all LEDs have a maximum Vf and a maximum If, but running them at those levels will shorten their life, therefore please regard these values as the
absolute minimum
.
The resistor values shown below are what are referred to as preferred values. There is not an infinite number of resistors. They are produced with a tolerance 5% (Gold band) and 10% (Silver band) being the most common. When calculating resistor values one should pick the nearest preferred value usually the next higher available, the higher the tolerance figure the less different values are available.
The resistor values below will cause the LEDs to emit light at almost their brightest which you may probably find too bright on your layout. To reduce the brightness increase the resistance that will reduce the current and cause the LEDs to be dimmer.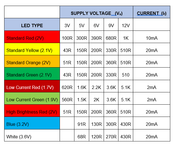 Please note the symbols R = Ohms (Ω) and K = Kilohms.
For supply voltages not shown please go to
www.electronics2000.co.uk
and download the FREE Electronics Assistant (Windows computers only) where you will find an easy to use calculator plus further explanation including using LEDs in series.
The usual disclaimer, I have no connection with the above site just a satisfied user.
Richard