Hi all,
Hopefully this is the most appropriate place for this topic? If not I do apologise.
I briefly touched on this question over in my introduction thread but now it's time to get down to the nitty gritty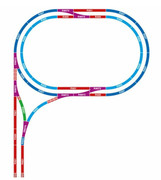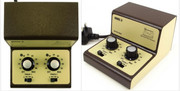 Shown above is my proposed track plan albeit a little simplified, it will be a little larger and I will be adding a couple more sidings once I've dealt with the main layout but this is the basic shape.
I will be using a gaugemaster model d twin controller as also shown above and would like/hope to use it in the way that I'll try to explain.
I've read some information about cab control but all seem to cover controlling multiple blocks which is not really what I'm looking to do, I will be the only person running the layout so no bother about who controls what. I would very much like to treat the outer oval including the branch off section as one block and the inner oval as a second block, is this possible? Basically I would like to run each oval independently of each other using the 'track 1' and 'track 2' sides of my controller so two trains can run on the separate ovals but then if I choose to park one of the locos into an isolated siding I would then like the 'track 1' side of my controller to take over the running of the whole layout so I can run just one loco over greater distances, I hope my ramblings make some sense? This may be easily achievable by the experienced here but I would very much appreciate any help especially with how and where to connect both sets of output wires from my controller and where to place the switch in all this to be able to choose which side of the gaugemaster controller will do what.
Easy to follow instructions or better still an easy to understand diagram or pictures ( I like pictures
) that hopefully I can decipher and follow, any and all help will be gratefully received,
Cheers,Lee.