Hello All,
I stuck point motors on my points, got them wired up and working (three transformers and copious amounts of single malt later...) so am now ready to have a go at ballasting.
But there's, um, a little problem. Or a big one, depending how you look at it.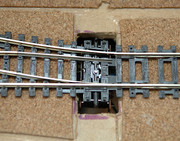 I cut holes in the baseboard to drop them into and so now I'm left with this. I can only pack out and ballast so much of the hole without interfering with the motor.
Is there a solution for this, anyone got a work-around..?
Shunts