Hello all,
Some may recall I posted early last year about an ambitious layout plan I have for a loft space. It was (and remains) dependant on some building works being undertaken to make the space useable which Covid and other matters have contrived to delay most frustratingly... so while it remains on the drawing board I am looking at tackling something much smaller to keep me occupied this year, and any thoughts on this are welcomed and appreciated.
I have an old IKEA table going spare, one of these:
https://www.ikea.com/gb/en/p/ingo-table-pine-14630009/
It's nice and solid, and freestanding, and I think will make an ideal baseboard. I'm sticking with OO as I'm familiar with it, have stock already, and will ultimately be building a larger OO layout in due course. At 75x120cm this board is *just* too narrow for a first radius loop, however I really want a continuous run so am working on the basis that I'll make it fit, probably by replacing the R1 curves with flex track at a radius just a fraction smaller. A rough first attempt plan is as below: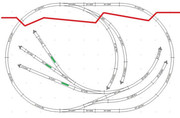 The inner headshunt and sidings I'm hoping will form a 3-2-2 inglenook, modelled as industrial sidings. I was conscious of the need to have straight sections for the uncoupling ramps (green) which necessitated the use of the curved point. I'm quite undecided about the pair of sidings from the top, I'm imagining them modelled with platforms either side, as a kind of unloading dock or tiny station - I could simply ommit them or have just a single siding instead. The red line represents a scenic break. With such tight curves, stock will be limited to 0-4-0 and 0-6-0 locos, and 4-wheel wagons and possibly a couple of 4-wheel coaches. The real intention of it is to keep me occupied and to be a testbed for ideas.
Any comments would be welcomed!