It'll sit on some well-braced MDF boards as per pic - things have moved on a bit since it was taken.
You can buy the cork as 1m (ish...) long boards. It's used for sound/heat insulation and isn't that much more expensive than foam.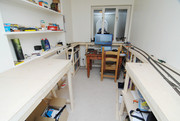 Talking of foam, how hard is it to get the silver foil off it..?