Today I could put it off no longer. Although my incline is not complete I'm awaiting a few things so with the fine weather I decided it was time to cut out my second tier (I don't have a workshop so I have to use the rear garden). This was always going to be complicated: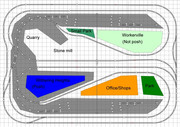 The second tier carries the two sets of sidings and the curves that connect them to my central incline. As you can see it hides some track, but exposes other bits. Clearly I can't cut it in situ so careful measurement and planning was the order of the day. The second tier baseboard is not as wide as the main baseboard so every measurement had to be taken from a centre line. This is also only the second time I've wielded a jigsaw.
Somewhat to my surprise the result has come out quite well. There's still a bit of trimming to do but I've decided that it's time to down tools and enjoy a relaxing Sunday afternoon.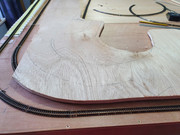 Here you can see where there is some additional trimming required. The track that disappears at the left will actually be exposed until the straight edge you can see on the right (that will be a tunnel mouth). At the top you can see some more track coming into view and I might yet have to trim a bit on the left. Also the mouth could be made wider which will allow me to have a larger quarry.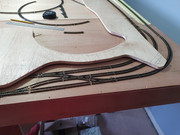 Here you see the cutout for Wilf's Junction. The spur on the right needs cutting back as the outer loop remains clear.
What you don't see (buwahahaha) is the diamond crossing that makes the inner loop a figure of eight
All in all a productive Sunday morning's work I think.