I have a class 43 HST set. It mostly runs fine. It leaves an oily trail behind it (not my fault - it came that way) but over time that should cease. Unfortunately there's one section of my track that it can't handle.
This is at the bottom of an incline. The incline easement goes straight into a curve. There is a very (very) slight incline at the rail joiner. It's so slight that you can't see it by eye and can only tell it's there by laying a metal ruler across the rails.
All the rest of my rolling stock couldn't care less. Up/down, fast/slow it's no big deal. But my HST lead car will
not
reverse into the curve (it can climb it just fine). The rear bogie is fine but the front bogie always derails. After investigating it I can see why. When sat on level track the wheels of the front bogie are almost rubbing on the chassis underside. This means they have no vertical travel so when the front bogie is straddling the above join the flanges of the rear set of wheels are just high enough to clear the rail top. Because the rear of the loco is on a curve the front bogie swings out to the left and now you've got a derailment.
Having taken the loco apart as far as I dare I can't see how to resolve it. It seems like the front motor is just set too high. The only thing I could do would be to cut off the front lower chassis cover and run with the pickups/worm drive more exposed.
Alternatively I could try and get Dapol to fix it as it's under warranty but I was wondering if anyone else could suggest something.
Photos front and rear: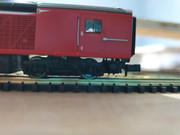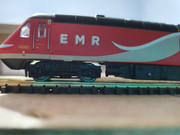 And a video showing the problem:
https://photos.app.goo.gl/GhBfUzfnyLCHjgUo9