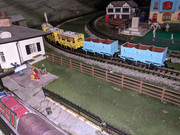 Between international shipping and the bug, finally got here, well worth the wait. Splendid Hornby Third Class Carriages.
Someone was telling me that that the L&M did away with these open vehicles fairly soon, as people had a tendency to go
spilling over the sides, particularly when leaping to gallantly rescue the hats of ladies. Not accustomed to anything faster
than ox cart, apparently.