Hi All,
Hope everyone is doing well on here. this is my first model railway forum that i've joined.
When i was younger i got the usual Hornby Model Railway starter kit (OO) but didn't get much use as i didn't have the space. I'm now 21 and have loft space to be able to create a model railway for myself!
I've watched a lot of Youtube video's of various layouts and tips but still unsure on which way i want to proceed.
The set i still have is in good condition however, the only problem i have is the controller which works for around 2 minutes but then all power cut's out totally, i believe the problem is caused by my controller being so old (Picture attached.)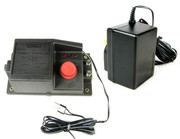 Should i buy a new controller for this (Wouldn't know a good alternative) or to buy a DCC kit and start over? Also is Hornby track good enough to use or should i buy totally new track also?
Any help would be most appreciated
Thanks