Three methods to place pictures on here>>
Option A)
Use the 'Attachment' tab below the opened text box. Click 'Add files' This will take you to your PC or Tablet etc where you locate the picture required (I prefer to pre place a copy of any image(s) on the desktop before starting, so as they are easily located!) Click 'Open' and you will see the images title appear in the narrow long box with a green check mark in the status . You can add a comment if desired. Then click 'Place inline' The image will automatically upload to the forum text box/page. Note: Over large files sizes will not be accepted by the forums software. So ensure the image to be uploaded is of a smaller size ideally less than 1Mb. You can click 'Preview' to check its correct or just go straight for 'Submit'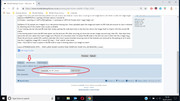 Option B)
Use the '
Add image to post
' link that is located below the text box on the left, which will direct you to select and then upload images which are then automatically placed into the forums Text area as Thumb nails. Clicking on the image allows the viewer to see the image larger.
This is perhaps the best option

.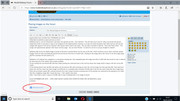 Option C
Upload your image(s) to a web picture hosting site. Once uploaded open the image and select its BB Code also ensure its size is reduced by selecting one of the smaller sizes usually available.
If your hosting site has allowed BB code then simply pasting the code back here in the text box allows the image itself to import with the correct BB marks.
If the hosting doesn't have the BB Code option use the pictures URL after ensuring you have the correct image size and copy that URL, then back here above the text box select the 'Insert image' icon (Picture of a mountain) that will place the BB code in the text box and it looks like this [ img][/img ] Paste the previously copied URL carefully between the ] and [ square brackets ensuring none of the brackets are removed by the pasting so as it looks like this [ img]
my image URL is here
[/img ] Click 'submit' when done.
Note: I have had to insert a space in the BB Code to stop it thinking there is an image to insert!
PLEASE NOTE... OVER LARGE IMAGES CAUSING PAGE OVERFLOW ISSUES WILL BE REMOVED.
Please note that .PDF documents cannot be directly uploaded to the forum, but can be uploaded to the free off site hosting company and then placed back in the forums text area or use a free conversion web site and save the PDF as a JPG etc.