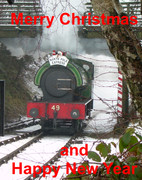 LC&DR says South for Sunshine
Happy Christmas and have a great New Year
Husband, Father, IT Guy, HO/OO Modeller.
A very merry Christmas and a happy new year to everyone.
joyeux noël et meilleurs voeux pour une nouvelle année prospère de la belle france john
Merci John - et chaleureusement réciproque. [Je l'ai fait via un traducteur - je ne parle pas français]
R-
All pets are therapy pets. Most are just working under cover.
Tres bien, mon ami. et bon Brexit. Just showing off, as demob happy, having just received our Carte Sejour, meaning we are allowed to stay in france for next 10 years. All been a bit of a worry, as, without a deal, we could have been asked to leave. Now, regardless of outcome, we are safe. We had a celebration, with lunch in Heathers favourite place, Burger King. Old habits die hard, dont you know..
That is good news and worth celebrating
And the Lord said unto John "Come forth and receive eternal life", but John came fifth and won a toaster!
Yup, we really pushed the boat out with a triple cheese and double bacon burger. not to mention, Fries.
Users browsing this forum: No registered users and 3 guests