New cog arrived very quickly.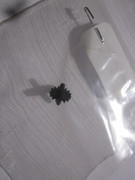 Posts: 3508
Joined: Thu Oct 04, 2018 5:51 pm
Location: HAZLEMERE, BUCKS.
Contact:
Something to get your teeth into Brian.
Nurse, the screens!
Posts: 1446
Joined: Thu Oct 04, 2018 6:30 pm
Location: Basingstoke, Hants
Contact:
Sometime ago I bought a Labelle Servicing Kit - it contained two bottles and a tube.

Bottle No.102 is a thin grease used in closed gear boxes and sealed workings.

Bottle No.107 is a "medium" type oil used for larger type motors found in HO to LGB scale

Tube 106 is a thick grease used on gear boxes that are exposed and on all open worm gears.

Not sure if this helps identify what grease/oil may be required.
Tomorrow will be a good day!
Users browsing this forum: No registered users and 4 guests