Due to various factors I've not been able to progress on much when it comes to modelling for many years. Now after moving home last year I've finally got a space for a layout (which ive started but that's another story) and a dedicated area for modelling so now I don't have to pack everything away when it's meal time
While sorting all the bits and bobs in boxes I came across a load of 37's in bits so I thought what can I make from these.
Then it was a case of what loco fits the bits I've cobbled together. I found a prototype for 1 and this is what I came up with 37 017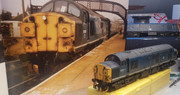 Just need to tidy the white line up as it dragged when I was using thinners to drag the weathering down as not left enough time to let the paint harden doh. Also build the spot light for the nose ends as can't find my small leds at mo.
In the background is a 25 that will be made into 25313 that I drove when I worked at Llangollen railway I just can't decide BR or Llangollen condition.