Hello, I've been working on various deigns for my first layout, this one seams to be the most likely to get approval for the spare bedroom.
I drew the plans out to inch and a half to the foot, that means one eighth on the rule is an inch.
The layout is 7 foot by 6 foot with a 2'x3' cutout. I've drawn the track in with ink and the rest in pencil.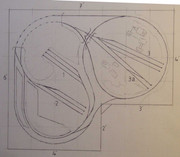 Features.
Tunnel top left.
The Siding marked 1 is for a stone quarry cut into the hill in the top left.
Siding 2 is for the engine shed.
The station is in the lower left with two platforms.
In the centre are two adjacent bridges the upper track will rise 2" and the lower track will drop 1"
Siding 3 is for the coal mine set on the hill side which forms a deep cutting for the track.
Siding 3a is for the brick works and clay diggings.
As this is my first layout I'm hoping the more experienced members will give an opinion on how it will work and if they can see any glaring problems. Also any suggestions for improvement.
Thanks, Dave.