I thought it was about time I showed a picture of my current work in progress layout. My original plan was for it to be an end-to-end layout based very closely on Clayton West in the mid 40s.
http://www.disused-stations.org.uk/c/clayton_west/
However, I was 'persuaded' the it would be much more interesting for others* if there were trains going round and round! Knowing better than to argue I have ended up with the fictitious layout below. Despite hours of tinkering with various track plans I have still not finalised the goods yard layout. However, for the moment I have moved on to detailing the coal merchants siding which is the inglenook siding in the middle foreground.
This is partly because I am fed up with wiring and also to get some sort of perspective to develop the landscape.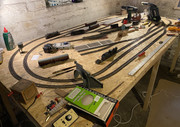 *Grandchildren!