More work done on the backscene at the signal box end of the layout: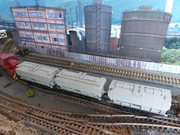 Factory building and two storage tanks downloaded from textures.com and stuck to the propriety backscene.
In the foreground the YE 0-6-0 diesel is pulling a short rakes of covhops away towards the chemical works (off - scene). I've got more work to do ballasting the tracks in that area and filling in the area between the main running lines and the line into the chemical works.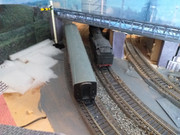 The scenic break comprises some of my photos of a bridge carrying pipes and the culvert for waste lime to the storage beds near the former ICI Lostock site. The original crosses a road and canal, but I've re-purposed it to cross the railway lines. I also stuck a 3D element made from wooden coffee stirrers to it and finally made some support pillars from cardboard covered with Metcalfe brick paper. At the far left At far left I've attached prints of some of my photos of the ex ICI waste lime storage beds to the propriety backscene. I have also started to contour the ground towards the backscene using pieces of polystyrene. These will be covered in papier-mache and coloured grass scatter materials to blend into the backscene.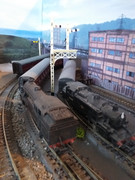 I've bought two Hornby signals, shown here placed in their probable locations for clearance tests prior to final weathering, addition of safety rails to the junction signal and finally fixing to the baseboard.