I've decided to spend some of my Coronovirus enforced 'stay home' time to convert the fiddle yard of Lostock Junction into a scenic one. This will depict a double track main line with a set of exchange sidings for a chemical works branching off it (inspired by the former ICI works at Lostock Gralam and Winnington).
So my layout will be double sided, with each side acting as the fiddle yard for the other.
This was the area before I started.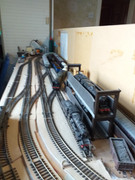 So far I have fixed the backscene sheets to the board (with artists spray adhesive) and cut back to underlay below the track (a sheet of the material normally used under table clothes to protect a polished table), so that it is now only below the actual tracks.