The absurdly short tunnel and girder bridge to nowhere can be seen in these photos.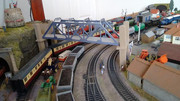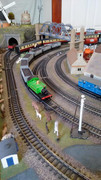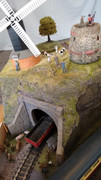 As mentioned in a previous post, I plan to build up the area around the church, so that the bridge has somewhere to go. It will link with two stone road bridges, one over a road and the other over a stream ( both bridges are already made and waiting installation). I'm hoping that there will just about be room for the church and vicarage as well. It'll be a squeeze to say the least. Until the hill is made, I've got workers and their construction vehicles on site to make the bridge to nowhere it a bit more logical - construction started but not finished ( I've picked up that idea from the forum). When the bridge actually goes somewhere, I'm thinking of calling it Klopp Bridge.
The driver of the brewery horse and cart is well overscale and will need to be wrenched off and replaced, but until that happens, he can keep the beer flowing.
The bright green locomotive is Little Giant and belongs to My Friend Stan who has been a big help with EVERYTHING technical. I've got several of his locomotives on extended loan.
The windmill is a Dapol kit and I'm very pleased with it even though it looks too clean next to the scratch built Roman tower. One day there will be a Roman wall with gateway arch joining the tower. The miller lounging by the door was originally an Airfix cowboy. One of my more successful metamorphoses, I think.