Hi again Chops,
You're certainly right that my daughter will have some happy memories of her childhood, and - I can add - I will look back at these days as the happiest of my life.
Regarding the concentration of clever people here in the UK, our mutual friend Bill Bryson has mentioned the changeable weather as a factor in the British flexibility of outlook. When you can have three seasons of weather in one day, it does rather encourage an open mind. I might add that the weather has also been an economic factor. A wet temperate climate is good for agriculture and that used to be the fundamental basis of wealth. It was that surplus wealth that provided the capital for the industrial revolution, which led to intellectual, cultural and technological progress.
Reminding myself that this is a model railway forum, I'd better upload some photos.
Mud on the Tracks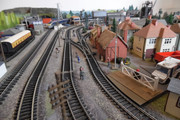 Old Faithful Arriving Shankly Gerrard Street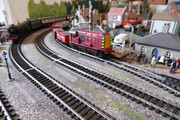 Cottages, Fagan's Lane, Shankly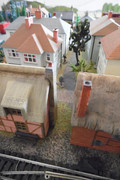 If you're wondering where I got the name Fagan's Lane, you might like to search Joe Fagan.