---
Posts: 824
Joined: Fri Oct 05, 2018 12:57 pm
Contact:
That is a fair length train for the little loco to pull.
Enjoying freelance modelling in 7mm narrow gauge
Feel free to ask questions relating to the Mountain Goats Waggon & Carriage Works thread.
---
Yes MG, it's a powerful little locomotive. Hence its name, Little Giant. It does, however, labour going past the curved point, but I think that this is because I used some flexi-track and made the curve too sharp. I plan to re-lay this ( the infamous To-do List again).
Little Giant belongs to My Friend Stan. When he was last here playing trains, he experimented with adding some weights to give it more traction. These certainly made a big difference to its pulling power and got rid of the wheel slide. I removed the weights for my photo sessions...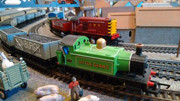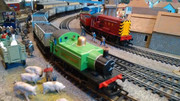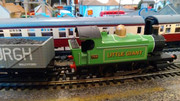 ... although I forgot to remove the weight in the cab for the first photo.
Incidently MG, I have read and noted your comments last month in a post in the OO section of the forum about not overloading locomotives with too much added weight as this can cause damage to the gears. I don't want to overdo it.
---
---
Trains, Boats and Automobiles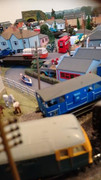 Another Day, Another Trainload of Coal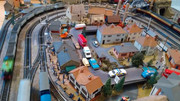 Windy Miller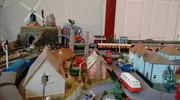 These scenic views show the two smaller road bridges to good effect. They're definitely amongst my favourite scenic features. I 'plan' one day to build up the river banks etc, so that the land drops down to the river as it would in real life. One day.
---
---
---
---
---
Users browsing this forum: No registered users and 4 guests