Hi all
My son has just bought an old Intercity Class 43 from eBay and we'd like to add a decoder chip.
Looked at some YouTube videos, however it seems this one has been tinkered with already, so I'm not sure how to wire up.
Any advice please?
I assume Grey/Orange onto where the spade connectors are and red onto the white cable, but where do I wire the black to? There appears to be an added wire and solder underneath and the other connector is for the bulb. (which we'll probably replace the the RGB board)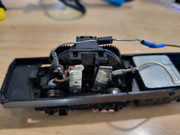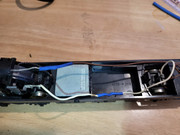 Thanks in advance!