Search found 97 matches
by Rog (RJ)

Mon Feb 11, 2019 2:36 pm
Forum: Wiring and Electrics
Topic: Point motor switches
Replies: 18
Views: 265
I use the one-wire circuit and CDU for each solenoid and this uses a standard toggle on-on like a SPDT and I have asked about getting the circuit & text so I can post it here. It was removed from a well known website when the site got updated. The toggle indicates which way the turnout is set. Is t...
by Rog (RJ)

Tue Feb 05, 2019 6:52 pm
Forum: DC
Replies: 3
Views: 117
Theoretically you shouldn't normally need any IRJs with Hornby points as they are self isolating "dead frog" points but you are best to fit 2 IRJs between the two points that join the inner loop to the outer loop to prevent interaction between the controllers connected to the two loops. The 2 IRJs a...
by Rog (RJ)

Sun Feb 03, 2019 1:18 pm
Forum: Wiring and Electrics
Topic: Reverse Polarity Switching
Replies: 16
Views: 327
There is a way of doing it with dc too, using a potential divider. A bit inefficient because the resistors are drawing current all the time.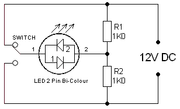 by Rog (RJ)

Thu Jan 31, 2019 4:42 pm
Forum: Members layouts
Replies: 61
Views: 791
The chap that used to run our local electronics supply shop was called Douglas De-Haviland!