Posts: 5
Joined: Sun Oct 04, 2020 6:01 pm
Contact:
I'm looking for near-ish replica of the attached style. Could be card, downloadable, plastic kit, MDF kit, r-t-r. Near enough would do tbh. 4mm/OO scale. Just the actual steel bridge structure, wing-walls etc not an issue. Thanks in advance for any pointers.
Attachments

DSC01811.JPG (556.6 KiB) Viewed 384 times
Posts: 3085
Joined: Thu Oct 04, 2018 5:51 pm
Location: HAZLEMERE, BUCKS.
Contact:
I made this from a Wills plastic kit SS57 girder plate panels oo gauge. You can make it as long or short as you want,
The central girder support I made from bits left over from the kits.
Puddles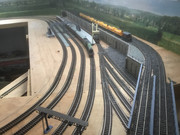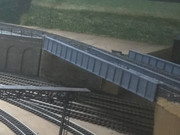 It does not take me long to do five minutes work.
Nostalgia is not what it used to be.
Posts: 208
Joined: Tue Oct 09, 2018 4:40 pm
Contact:
I've used the Wills SS57 kit too.
Posts: 566
Joined: Thu Oct 04, 2018 7:42 pm
Contact:
If you use the scalescenes bridge please post how you got on as I am thinking of giving this one a go - but haven't used any scalescenes stuff before.
And the Lord said unto John "Come forth and receive eternal life", but John came fifth and won a toaster!
Users browsing this forum: No registered users and 2 guests